In The Vineyard






Founded in 2010 by the Etsell family, Singletree Winery is a family-operated winery located along the Fraser Valley in Mt. Lehman, BC. Only a 45-minute drive from the city of Vancouver, Mt. Lehman is a historic community in a beautiful agricultural area of British Columbia situated along the mighty Fraser River.
Mt. Lehman and Singletree winery are surrounded by natural wonderland set between majestic mountain ranges, on the wide plain of the Fraser Valley. The scenic countryside ranges from green trees, river and plains, to the coastal mountains, where stunning views of Mt. Baker can be seen.
Steeped in the tradition of farming, the winery was named for a single harness yoke that was commonly used in the late 1800s. The Singletree was an essential tool that allowed fertile land in the Mt. Lehman area to be cleared to make way for farms.
Over several generations, the Singletree team has developed strong work ethics, a sense of responsibility to the land, along with appreciation for the art of agriculture. From growing grapes in their estate vineyards, taking the finished bottle to the shelf and to the very last sip of wine from the glass, Singletree's active involvement, dedication, and passion for the land creates only the highest quality and most flavourful and nuanced wine.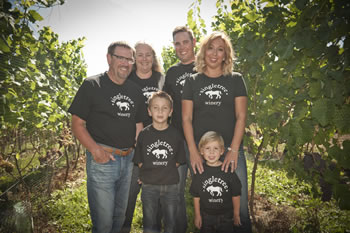 With Garnet leading, the family turned their passion to a business. The first vineyard planting on two acres of land in 2010 quickly expanded into 12 acres of vineyard. The majority being white varietals along with Pinot Noir. We carefully select red varietals from other family vineyards grown in the South Okanagan.
Singletree aims to produce more than 3000 cases of quality wines each year, including reds, whites and blends.
Family farming has a long history on this parcel of land, which as been continually farmed since the late 1800's. Passion for farming continues as Garnet, Debbie, Andrew and Laura uphold the agricultural pride of Mt. Lehman.
Winemakers Matt Dunmayne and Andrew Etsell work with the terroir of the Fraser Valley producing balanced wines using varied techniques. The wines are fermented in stainless steel, concrete or French oak vessels, and there's always something new or unique being offered.
The warm summers and mild winters of the Fraser Valley climate and terroir make it a perfect growing region for the winery to focus on premium white wine grape varieties.
Special events are held throughout the year so be sure to check out our events calendar to add more fun to your visit. If you are planning a wedding, corporate event, birthday or unique experience of your choice it can be held in our special events area right in the heart of the vineyard to add a special touch to your day.
Open weekly or by appointment, the winery offers a tasting room overlooking the first-planted block of grapes in the vineyard, reflecting the Etsell family's love for farmlands.